2J Antennas is a global leading supplier of antenna solutions that aims to deliver innovative technologies for the connected world.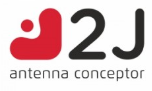 In addition to the classic range of antennas, a series of high-quality products with cutting-edge technologies to meet the rapidly evolving wireless industry catering to 5G, 4G (LTE), 3G, 2G, WiFi, Iridium communications, GPS/GNSS/BeiDou frequencies and more.

With a focus on Automotive, Navigation, IoT, Marine, Telematic, Automation, M2M and other markets, 2J employ a customized solution for the development and delivery of every application requirement. 2J Anntennas utilize a large selection of modern engineering tools including network analyzers, anechoic chambers, simulation software, 3D rapid prototyping printers and many more.

These tools help reduce design phases, enabling the engineering team to react promptly and expand efficiently to satisfy all customers' needs. 2J Antennas manufactures products with non-hazardous materials, so fully RoHS, REACH, IATF 16949:2016, ISO 9001:2015 and ISO 14001:2015 compliant. In addition, selected antennas are IP67, IP69K, IK-09 and CE certified.