Ultra-wideband automotive grade module with embedded antenna - AU30Q - Quectel
February 28, 2023
Quectel announces ultra-wideband (UWB) automotive grade module, CCC and ICCE compliant to enable newest generation digital car keys with improved location and security capabilities. Based on Qorvo's DW3300Q UWB chipset, the module enables precise real-time outdoor and indoor localization and reliable wireless communication.
Featuring an embedded antenna, the AU30Q provides improved location capabilities, enhanced security and reliable data transmission, making it particularly suited to smart car access applications such as keyless entry, in-car passenger detection, personnel approaching detection, easy trunk access, wireless charging and battery swapping for electric vehicles.
"With the increasing availability of UWB technology in smart phones, many car OEMs are considering adopting UWB as a solution in their next generation of vehicles to offer drivers secure car access," said Manfred Lindacher, Vice President of Global Sales, Automotive International, Quectel Wireless Solutions. "We are very excited that the AU30Q UWB module based on Qorvo's platform will help car OEMs and Tier 1 partners develop safer and easier-to-use car access solutions. It further expands our comprehensive portfolio covering wireless and GNSS technologies, antenna and related services, and also solidifies Quectel's leading capabilities in the automotive field."
"We are very pleased to expand our successful collaboration with Quectel to include UWB," said Gorden Cook, general manager for Qorvo's Automotive Connectivity group. "We believe their choice of our low-power, single chip UWB transceiver brings simplicity, flexibility and high performance to their new automotive solution. UWB is an increasingly important technology for automotive customers, and we look forward to supporting Quectel in the launch of their AU30Q product."
Incorporating the AEC-Q100 qualified Qorvo DW3300Q chipset, the AU30Q supports UWB Channels 5 (6.5 GHz) and 9 (8 GHz) and offers data rates of 850 Kbps and 6.8 Mbps. It can be flexibly adapted with an external MCU that has CAN or Bluetooth connectivity to accommodate for any possible architecture need in the car. Compared to chip-down designs, the UWB module can help automotive customers deploy their solutions more efficiently, save development resources, remove for customers the hurdle of complex RF and antenna design aspects, and dramatically shorten the time-to-market.
AU30Q enables the newest generation of digital key and car access, where UWB defeats attacks by making the vehicle aware of the true localization of the owner, thru real-time super-accurate distance measurement between the vehicle and the owner's key fob, smart phone, or smartwatch. For those applications, AU30Q fully conforms to the latest standards set by the Car Connectivity Consortium (CCC), a global digital key standardization organization, making it compatible with different vehicle manufacturers and smart phone OEMs. It also fully conforms to the Intelligent Car Connectivity Industry Ecosystem alliance (ICCE), a leading organization for digital key standardization in China. Similarly, AU30Q alignment with FiRa™ PHY and MAC specifications enables interoperability with other FiRa™ compliant devices.
The AU30Q module can be used in Single-Sided Two-way Ranging (SS-TWR) and in Double-Sided Two-way Ranging (DS-TWR) systems to locate assets. AU30Q can quickly be used to implement Real-Time Localization Systems (RTLS), as well as automated navigation systems in GPS-denied areas, with an accuracy of 10cm.
With a compact and unified form factor of 12.0 mm × 25.0 mm × 2.4 mm, the AU30Q is an ideal UWB solution for size sensitive applications, and helps manufacturers reduce product size and optimize design cost. This surface mounted module is extremely robust and features two highly reliable SPI interfaces to host the processor as well as an internal antenna, which improves design flexibility and reduces development time and effort.
Engineering samples of the AU30Q UWB module are available now.
To learn more about Quectel's AU30Q module, please contact our team.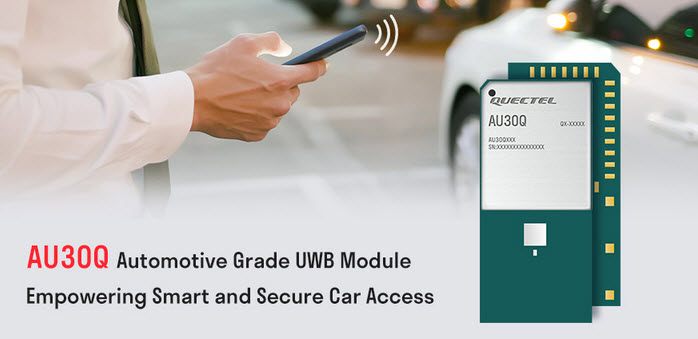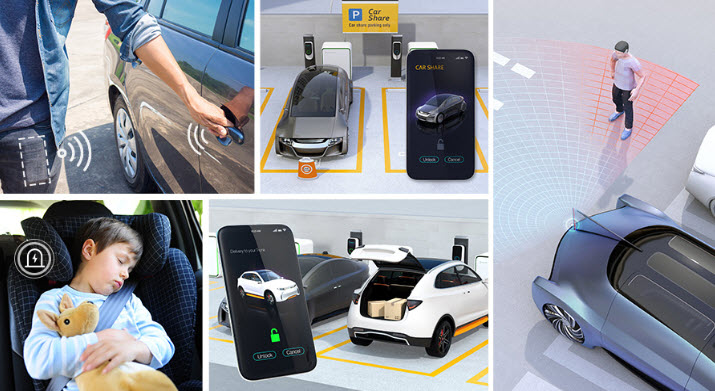 Back