The Wi-Fi HaLow wireless networking protocol has the potential to transform the IoT
July 13, 2023
Wi-Fi HaLow
Wi-Fi HaLow (pronounced Hey-Low) is a low-power, wide-coverage version of the traditional Wi-Fi standard, which supports low-energy communication of a high number of IoT devices within a large area.
This standard was developed because traditional Wi-Fi has a short effective distance, high power consumption and it puts a limit to the number of devices that can be connected to a single access point. All these attributes are undesirable, and they act as big roadblocks in IoT's path to success.
Operating in the license-exempt sub-1GHz (gigahertz) range, it allows users to connect IoT devices over a radius of one kilometer – ten times the range of traditional Wi-Fi – making it suited for both indoor and outdoor IoT scenarios such as home and industrial automation, smart agriculture, smart cities, smart buildings, warehouses, retail stores, campuses and more.
Available products:
FGH100M
A Wi-Fi HaLow module based on Morse Micro's MM6108 Wi-Fi HaLow SoC. This module enables lower power connectivity than previous Wi-Fi technologies and can fulfill the needs for multi-year battery-powered IoT devices.
SX-SDMAH
An 802.11ah Wi-Fi HaLow SDIO/SPI module enabled by Morse Micro's MM6108. It features a host SDIO or SPI interface to operate with a processor or a microcontroller. It supports up to 8MHz channel bandwidth. Featuring high-transmission power to gain more distance and coverage.​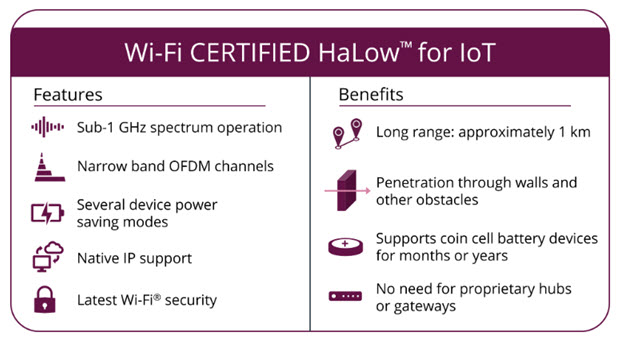 Source: Wi-Fi Alliance - www.wi-fi.org
Back