High Reliability Products
For over 40 years, industry leading companies in the aerospace and defense industry have relied on Apex Microtechnology's high reliability products to meet the rigorous demands of their operating environments. Apex offers four categories of product grades: commercial, industrial, non-complaint "M" and "M/883" complaint. All products are offered in commercial/industrial grades with select products offered in "M" or "M/883" complaint grades. Our military grade products are certified to a level of quality and reliability best suited for applications in the defense/aerospace segment. "M" and "M/883" products are screened to MIL-PRF-38534, class H and are manufactured in Apex's DLA certified facility.
Our products are graded across four specific operating temperature ranges: commercial, industrial, non-compliant "M" and "M/883" compliant. Commercial and industrial grade products are 100% static and dynamic tested at +25°C while "M" grade and "M/883" products are 100% tested over the product's respective full temperature range for both static and dynamic parameters. In comparison to our commercial and industrial grade products, Apex's non-complaint "M" and "M/883" grade products are tested over a wide temperature range, in addition to certain environmental screenings and internal visual inspection criteria to ensure performance even under exposure to the harmful effects of natural elements and strenuous operating conditions that are typical of defense and aerospace applications. Apex's "M/883" products also include published standard microcircuit drawings which can be found in the DLA database and have been tested against expansive temperature ranges to determine resistance to harmful effects of natural elements and conditions that are typical of military and defense applications. The purpose of these tests and the certified documentation is to assure the quality and reliability of the product to a particular process level and prove that these products are suited to meet the challenges of their intended application.
The tests that are performed include:
Compliance with these requirements is signified by the "/883" suffice in the model number indicating that the part has been tested and is capable of guaranteed operation over the vast military temperature range demands.
Click here to see the official Apex Microtechnology Product Military Process Flow diagram for a breakdown of the process and evaluation that our "M" and "M/883" products must go through in order to pass the quality screening.
Product grade by screening process: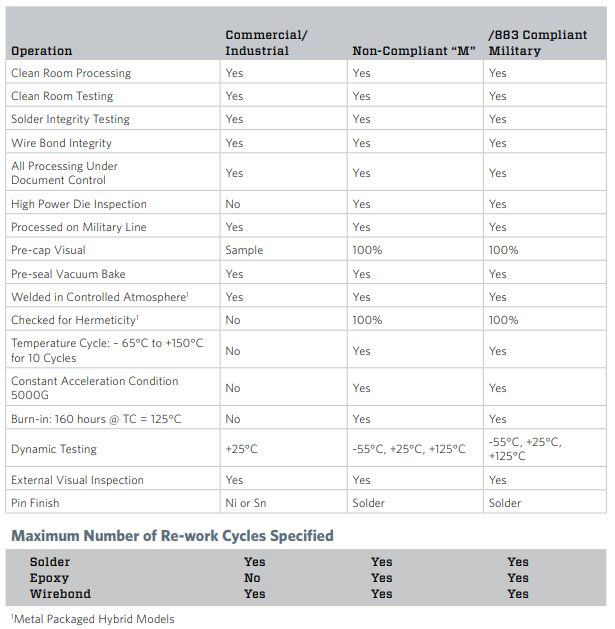 Complete description of an Apex "M" or "M/883" product consists of the following:
Package type:
Package type is a variable to be considered during the product selection process. Apex offers a number of package options well suited to a wide spectrum of operating conditions. Taking time to make the right packaging choices can save design-in time and deliver cost savings. For less rigorous environments, a value engineered, non-hermetic package such as a plastic (PowerSIP), or an open frame module, can be suitable choices that are also very cost effective. However, a hermetically sealed, metal package may be the best option to provide long-term reliability in the most rigorous operating conditions. In this case our TO-3 package serves as the leading choice for our MIL-Aero customers. Stay tuned for an upcoming blog where we will discuss an in-depth guide for product selection and the benefits of each package style in your systems. Certain package styles prove to have benefits for thermal capabilities and a breakdown can be seen here:

Precision Voltage References Manufacturing Process:
All of our voltage references are manufactured in our DLA certified facility and screened to MIL-PRF-38534, class H certification. Sourced building materials, such as ICs and small-signal components, are attached to the ceramic substrate alongside thick and thin film resistors and interconnected with gold ball wire bonds. The film resistors are trimmable which allows for ultra-precise voltage references that can perform over expansive temperature ranges. After the initial assembly, the parts undergo burn-in tests and extensive electrical tests to identify any failures or underperforming parts.
The functional voltage references are then powered up, and the output voltage is measured over the entire operating temperature range in comparison to the expected output values. Every part is trimmed differently until it meets the expected specifications. Considering the resistors are very stable, the voltage references have excellent long-term stability.
After the trimming is completed, the parts are sealed and undergo reliability testing that includes additional burn-in, temperature cycling, and acceleration tests. The highest graded parts spend one full day under the trimming process and seven following days in reliability testing. This extensive procedure ensures that only functional devices are delivered to the customer and every shipped part will have success over the entire -55° to +125°C temperature range.
The high quality and reliability provided by the hybrid manufacturing process, combined with our ceramic packaging, make our VRE product line exceptionally well suited for equipment that operates in harsh outdoor environments such as:
Apex's product line of VRE's are RoHS complaint and come in various package options that allows for easy integration into complex systems. Here we take a look at a popular choice for long-term stability requirements, the VRE310, which comes in four package styles.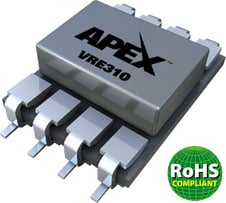 VRE 310 - Low Noise Precision Voltage Reference
"M" Grade Power Operational Amplifiers:
Apex offers several M grade power amplifiers that raise the bar for application limits in several areas, most notably the temperature range, which allows the part to achieve the full -55°C - +125°C. These extreme temperature shifts are crucial for MIL-Aero applications and Apex has multiple solutions for these complex systems. Here we take a look at one of Apex's most popular "M" grade parts, the PA12, which is used in various military applications such as imaging and camera control, sonar, vibration cancellation, gimbal positioning and more.
PA12 - Class A/B Power Amplifier
Available "M" grade and "M/883" SMD grade products
See below for the full list of Apex "M" and "M/883" products proven to be the leading choice for the military and defense industry.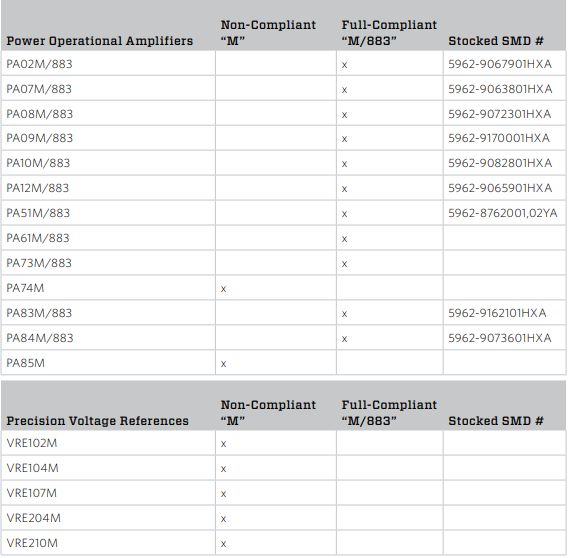 Apex certifications:
Apex Microtechnology products deliver high quality and reliability by using the same DLA MIL-PRF-38534 certification, ISO9001 registration and qualified manufacturing systems and processes across all product grades. Apex operates a DLA certified and qualified QML-38534 manufacturing facility with our certification maintained since November 8, 1989, and a QML listing as of May 31, 1990. All products are screened to MIL-PRF-38534 and Class H.
For complete product and quality information browse our product pages as well as our detailed application note library to learn more about what Apex has to offer.