Chirp RF Technology an RTLS technology for location tracking and ranging - Inpixon
June 2, 2022
Chirp Spread Spectrum (CSS), also known as chirp, is an RTLS technology that has been in the industry for 20 years and is known for its unique capabilities in location tracking and ranging.
CSS is named after its linear frequency modulated signals, which are known as chirps. It's a unique long-range RF signal that's used to transmit data over long distances, for communication and location tracking, in both indoor and outdoor settings.
Real-Time Location Systems are a type of indoor positioning system that allow for assets, personnel, vehicles, and machines to be tracked indoors, enabling organizations to gain a holistic view of their operations.
Chirp works by using time difference of arrival (TDoA), two-way ranging (TWR), or a combination of both - making it a powerful 3-in-1 solution for ranging, communication and tracking. It's best known for its ability to be used indoors and outdoors, its resilience against radio-frequency interference, its long ranging abilities and cost effectiveness.
Here are four key use cases where chirp can be used to optimize industrial operations:
Using a chirp-enabled RTLS is suitable in scenarios like underground mining, where lack of visibility causes a range of issues from siloed workflows to accidents affecting personnel or equipment. The harsh environment where underground mining happens makes it one of the most dangerous jobs, with drilling and tunnels going deep below the earth's surface, and large heavy machinery needed to get the job done.
Chirp's resistance to RF interference and reliability from its ISM-band 2.4 GHz make it useful for miner tracking, creating safety zones and collision avoidance systems. When workers, equipment, and vehicles are all tagged, it makes worker search and rescue and employee mustering more efficient and tracking of equipment for maintenance or use faster. It also means that teams can be alerted if anyone is near a hazardous zone, allowing them to take quick action.
The long ranging capabilities of chirp (of up to 1000 meters with optimal conditions and deployment) help sustain a reliable connection in deep mines, and chirp is also a great RF technology for reduced costs, as fewer anchors are needed for a long, 1D tunnel.

In safety scenarios, two-way communication can be more effective than location tracking as chirp-enabled tags can send signals to each other without the need for location data to be sent to a location engine and RTLS to be analyzed. Instead, following the protocols of CSMA (Carrier Sense Multiple Access), data is sent between tags when no other communication is happening to avoid packet collision and enable optimal conditions for ranging.
So if an employee in a vehicle gets a proximity message that they're in range of another person, they can make the quick decision to stop the vehicle before an accident occurs. A combination of two way ranging and location tracking can be a great solution for organizations looking to benefit from the advantages of both methodologies.
In manufacturing facilities, distribution centers, warehouses or even airports, a lot of important activity happens outdoors. The movement of vehicles and trailers happen outdoors, which is why chirp can enable tracking of the general location of assets as they transition from indoors to outdoors or vice versa. These facilities are often very large as well, making chirp a great match because of its long ranging abilities.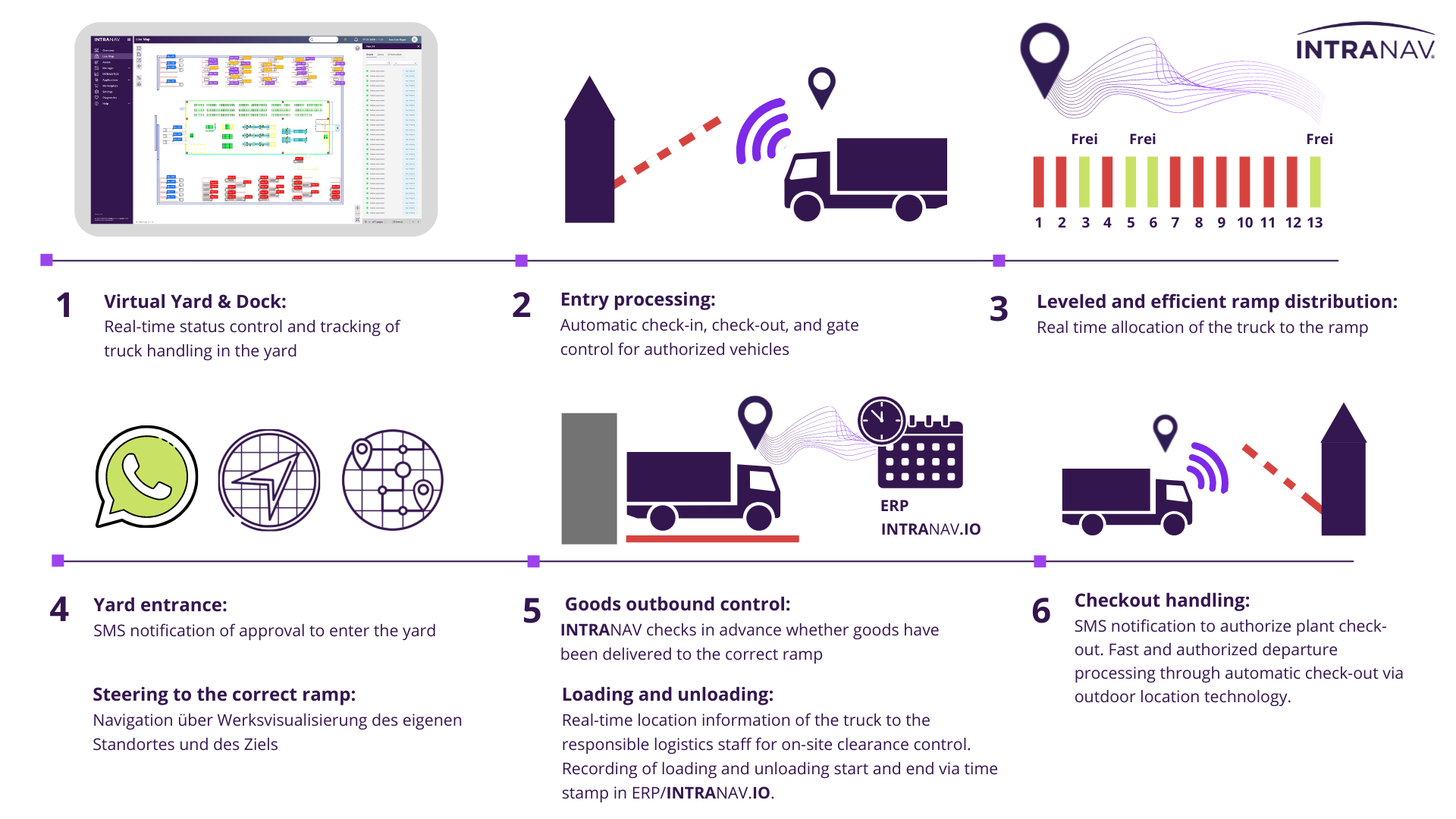 A yard management solution is key for coordinating the movement of parked trucks, cars, trolleys, pallets, large equipment stored outside and more. So these large and expensive assets can easily be located when needed, and stored efficiently. RTLS can also be used to create more efficient workflows, by finding more optimal routes for transporting goods. This can result in shorter wait times and increased efficiency, boosting ROI.
Chirp allows organizations to have a lower total cost of ownership, as fewer anchors are needed in deployments compared to other RF technologies. This results in fewer costs due to reduced maintenance efforts and less operational procedures needed during the initial setup.
Working around trains, whether it be maintaining tracks, facilities or trains themselves, can be dangerous as it involves large vehicles and equipment. Many leaders in this sector are therefore turning to RTLS and tagging assets and personnel to protect their workers, such as in situations where they're maintaining tracks and need to be aware of approaching trains.
The reason that chirp is a great match for this scenario is its long ranging abilities, ability to work outdoors and collision avoidance solutions using ranging. RTLS can also maximize efficiency in workflows by tracking wagons that need to be attached to specific trains as they oftentimes can be misplaced, despite their size. In addition, chirp can be just as accurate while moving at high speeds, also known as being doppler-tolerant.
Chirp can also be deployed over an entire station as a backup solution on top of GPS for example. At times, technology can fail, and adding chirp as a second layer of safety or second source of information can come in handy in reducing the level of risk in a dangerous scenario, or meeting Safety Integrity Level (SIL) requirements.
Unlike other RF technologies, because chirp runs on the 2.45 GHz ISM band and is a Spread Spectrum technology, no spectrum license is required when operating outdoors which provides organizations an RTLS option without limitations.
Organizations with livestock can greatly benefit from an RTLS by ensuring their safety, preventing the spread of disease and tracking heat and rumination via livestock tracking and health monitoring. Chirp is a great match for this use case, as it works outdoors and operates over long ranges, working well with large farm areas.
When livestock are tagged, data can be collected on their temperatures and resting behaviors to determine what factors are most associated with sickness, and therefore action can be taken to treat animals when symptoms of disease start to occur. This helps protect the livestock that are sick and prevent illness from spreading to others. As livestock also have short windows for reproduction (which can be as little as 12 hours), farmers can locate livestock in heat with RTLS.
With indoor and outdoor support, strong protection against interference, lower infrastructure costs, long ranging abilities and more, chirp is an RTLS technology that can increase operational efficiency in a variety of use cases.
Back