The development of technologies such as artificial intelligence (AI) and the Internet of Things (IoT) has improved our personal and professional lives. Devices such as smartphones, fitness trackers, and wearables have made our daily experiences more convenient and healthier, while smart offices and smart factories are on the rise along with smart cities and smarter living.
As the US surpassed a quarter of a million deaths due to COVID-19 in November, many companies and government agencies are looking to IoT to potentially help the healthcare system better monitor at-risk and infected patients through connected networks and devices. As a result, the healthcare industry encounter challenges when it comes to endpoint management like never before.
Whether it is telehealth consultations, digital diagnostics, remote monitoring, or robot assistance, IoT has some vital use cases. In this article, we will explain these different applications in more detail To effectively and efficiently rely on endpoint AI and IoT to protect people and communities against the Coronavirus pandemic spread,
Telehealth Consultations
Once doctors discovered the high contagiousness of Coronavirus, meeting patients in-person became a less safe option compared to video chats. Video communication tools and apps have allowed people to stay at home instead of rushing to the hospital in mass. For instance, the Stanford Children's Health Hospital has seen a surge in telehealth visits during the pandemic.
Digital Diagnostics
Increasingly, IoT devices can keep track of health data after performing a digital diagnosis, such as measuring your heart rate, temperature, or oxygen level. Smart fitness trackers are already proven to be effective in playing a key role in detecting COVID-19.
As IoT integration spreads to more products in and around our environment, the devices around us will become smarter in collecting vital data for health providers to better track trends and protect people.
Remote Monitoring
Developments in remote IoT has enabled engineers to create devices that keep track of patients from their homes or distant locations. Elderly patients are more vulnerable to COVID-19, and they can also benefit from remote monitoring of chronic diseases. Simply put, remote monitoring technologies are making patients more capable of managing their health.
Robot Assistance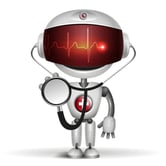 IoT robots are increasingly being deployed to assist in healthcare settings more often. Nowadays, some hospitals and healthcare providers are conducting pilots or experiments in using robots to deliver medicine, disinfect devices, and even clean hospitals, all of which frees up more time for healthcare workers to treat their patients. The Danish company, UVD Robots, has leveraged IoT for robots that can clean and disinfect rooms in hospitals.
How Ambiq is Helping
Battery-powered mobile or portable devices for healthcare monitoring are becoming more diverse and widespread. Whether it's to monitor blood pressure, glucose, heart-rate, hand hygiene, depression or mood, Parkinson's disease, they are increasingly taking on mission-critical tasks to help us live a longer and healthier life. We'll see connected inhalers, ingestible sensors, connected contact lenses, and even robotic surgery as part of our standard healthcare procedure and options for the foreseeable future. Therefore, it's all the more important to ensure that all these Endpoint devices need to be reliable in a healthcare setting. Especially for devices that rely on edge computing, a long-lasting battery life ensures that healthcare providers can spend more time with patients and less time troubleshooting tech problems.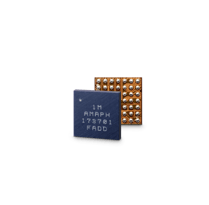 At the heart of millions of endpoint devices is Ambiq's ultra-low-power wireless MCUs and SoCs that support vital technologies required by modern healthcare organizations such as Bluetooth Low Energy (BLE). Powered by Ambiq's products, IoT devices can continue to evolve and help deliver the best patient care possible.

Written by Charlene Wan

#Smartband #smartwatch #Covid-19 #prevention #IoT devices